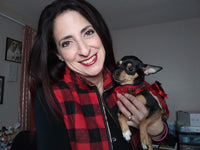 Owned by Stephanie Mosco
Stephanie has always had a passion for rescue work so she founded Among the Wildflowers Sanctuary in July of 2021.
We pull senior dogs, mainly chihuahuas, that are not adoptable and would be euthanized if a rescue doesn't get them out.
We couldn't do what we do without the amazing support of others. We decided that Underdog Creations would help us raise funds to help more babies so every purchase goes directly towards the dogs of the sanctuary.
The good, the bad and the ugly...we are in it for the dogs. 
Find out more about Among the Wildflowers Sanctuary
Izabells

the BiPed Chihuahua
Izabells
the BiPed Chihuahua